Welcome to Richmond Adventist Elementary School! We are passionate about training the young people to be leaders and instruments for Jesus as well as an advent of change for the betterment of the world.
As part of the world-wide Seventh-day Adventist school system that includes elementary and high schools, colleges, and universities in countries across the globe, we are committed to providing fun, engaging and quality Seventh-day Adventist Christian education.
RAES is approved by the Accrediting Association of Seventh-day Adventist Schools, Colleges, and Universities, as well as the National Council for Private School Accreditation, and offers a Bible-based curriculum.
We invite you to join us in learning more about Jesus. Please call to arrange a visit as soon as possible!
Indiana Choice Scholarships:
https://www.doe.in.gov/choice
Indiana Non-public Education Association:
http://inpea.org/inpea-is/supporting-inpea/
Announcements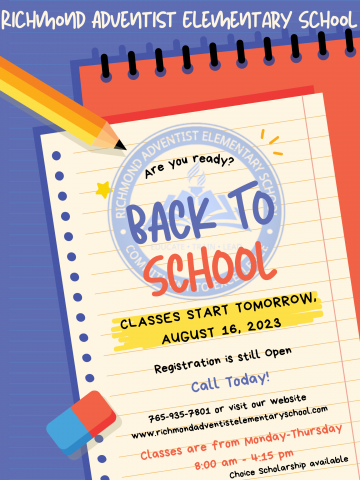 Flower Fundraising
www.flowerpowerfundraising.com/marketplace/seller/profile/shop/raes79/